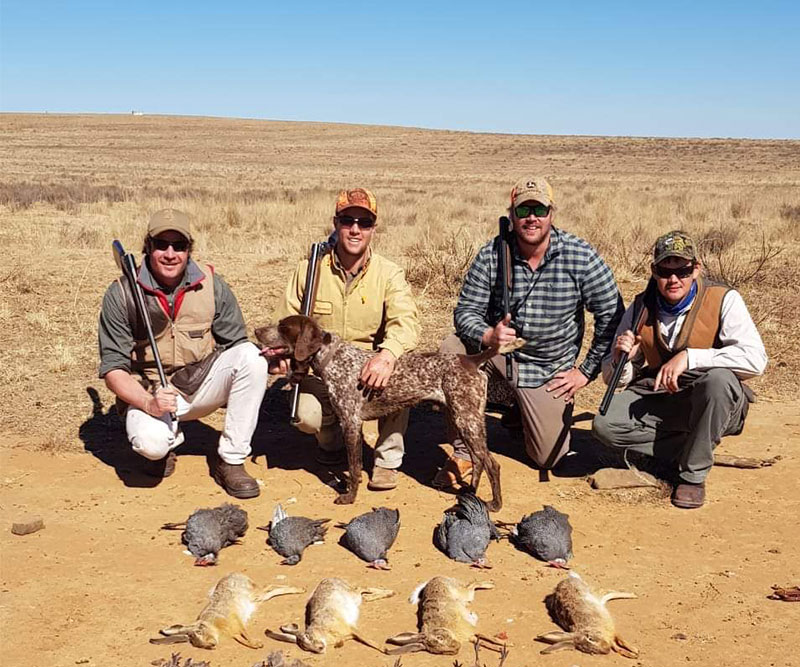 Packing List
Clothing should be comfortable and strong. Laundry is done daily, so it is possible to travel light. Hunting boots must be comfortable and well-worn in.
– Four shirts, two long and two short sleeves
– Two pairs shorts; two pairs long pants
– Warm, windproof jacket and sweater
– Casual wear for evenings
– Sandals
– Woollen socks
– Gloves
– Sun hat and warm cap
– Personal medicines and Prescriptions
– Binoculars
– Camera
– Flashlight and batteries
– Sun protection lotion and sunglasses
– Rain jacket
– Laundry is done on daily basis as needed – no need to over pack.
Climate
March to May is our fall; June to August is our winter; September to November is our spring; December to February is our summer. The best hunting time is from March to the end of September, the cooler months. In the Free State, the fall and spring temperature is between -2 to 10 degrees C in the mornings and up to 28 degrees C at midday. In winter it is -5 to 5 degrees C in the mornings and up to 18 degrees C at midday. In summer the mornings are 5 to 15 degrees C and midday can reach 35 degrees. In Limpopo and KwaZulu-Natal, the temperature is warmer than in the Free State.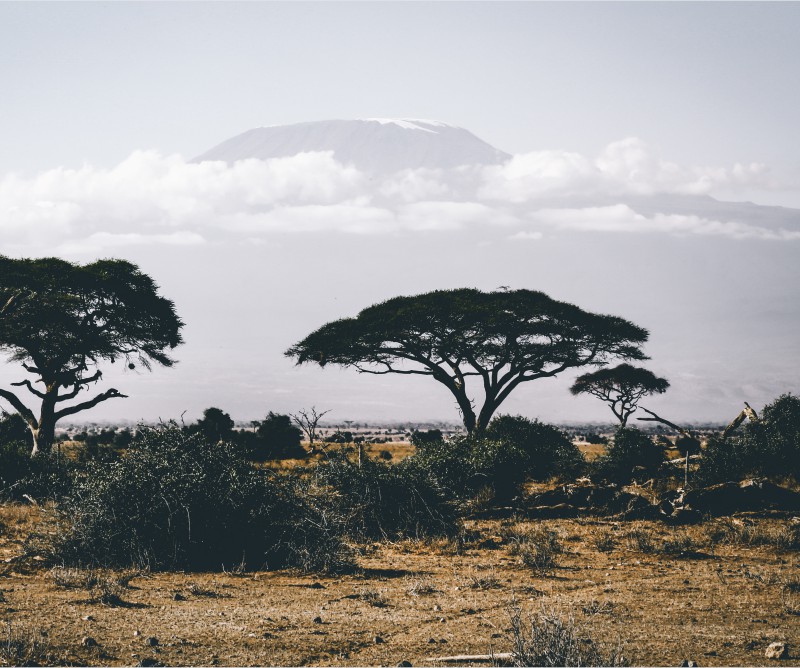 TWELVE THINGS TO TAKE ON A SAFARI IN SOUTH AFRICA
– Written by a hunter!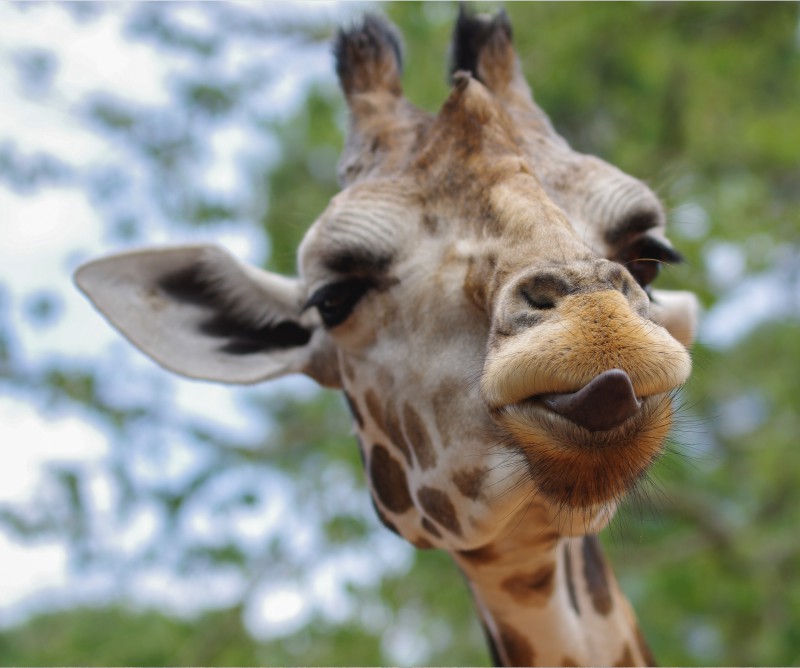 Going to a new place with different weather, terrain and all-round conditions can be a stressful situation when it comes to packing. While everyone is different, here are a few general ideas and suggestions for what to take on your South African trip.
1.  Light Weight down jacket or fleece sweater with stuff sack
While many safari destinations in South Africa can be plenty toasty during the day, nights are often cool, and if a front comes it may get really cold. If your hunt is scheduled for the South African fall – April to May, you'll need a light weight jacket. For the colder months – June to September a fleece jacket will be better, and in neutral colours – Khaki or Camo.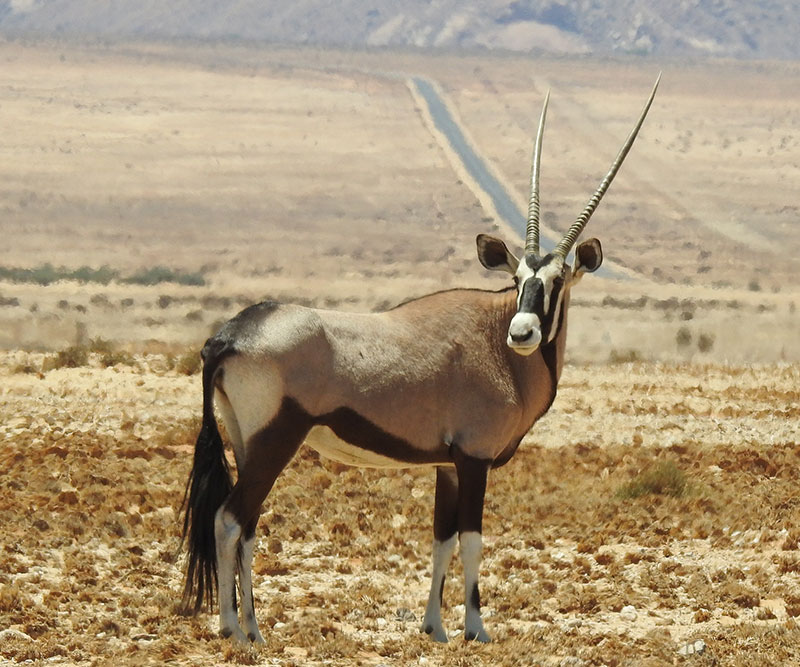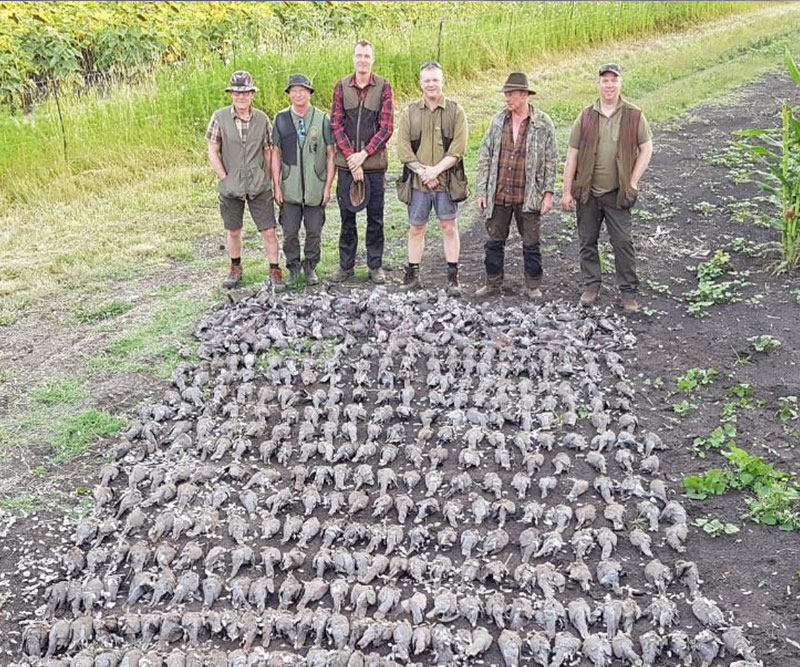 2. Safari Hat
A good Safari Hat is high on any packing list. A "crushable" hat will be the best so that it doesn't get damaged when packed.
3. Clothes made for comfort
Shirts with pockets.
A good belt – to attach your cartridge case and a knife with a good case.
The key is layering your clothing so you can shed or add a layer for weather conditions.
Good quality woollen socks.
Take a comfy pair of slippers for lounging.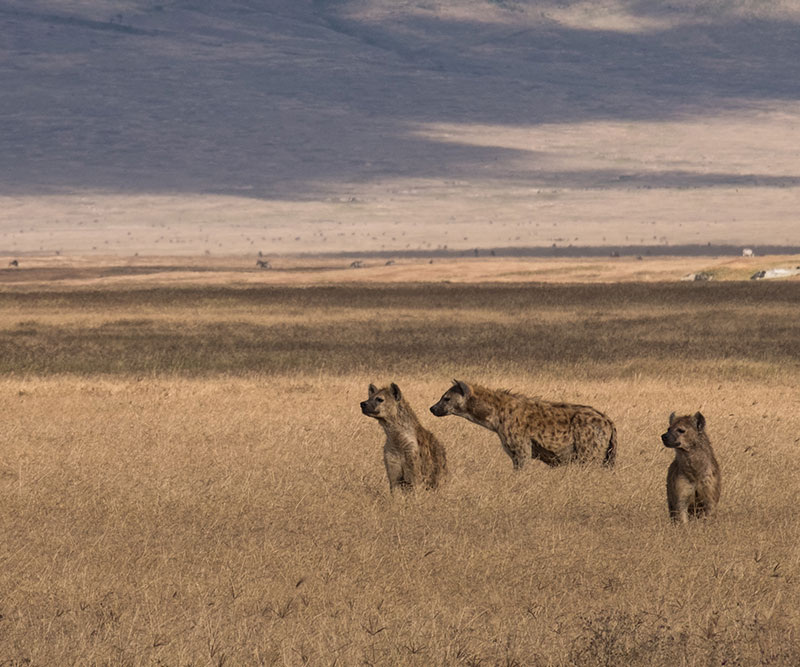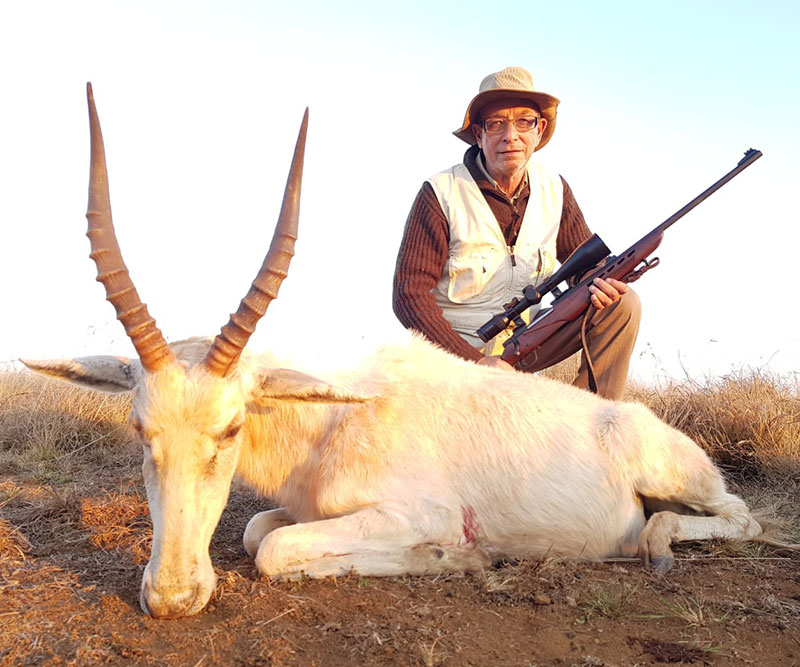 4. Spare pair of sunglasses
Sunglasses can take a beating on safari. The African sun is bright and beautiful and you need your peepers to be protected. It is easy to lose, drop, sit on or scratch a pair of shades. Do yourself a favour and bring an extra pair and bring each pair in a hard case.
5. Day pack or small duffle for your "possibles" gear.
Keep your essentials handy and in one place. Your day pack should contain extra ammo, range finder, binoculars, sun screen, medicines (some aspirin or something similar / small first aid kit), folding knife, hand cream/lotion, antibacterial gel, flashlight (hand held / head lamp) you will use it more than you think.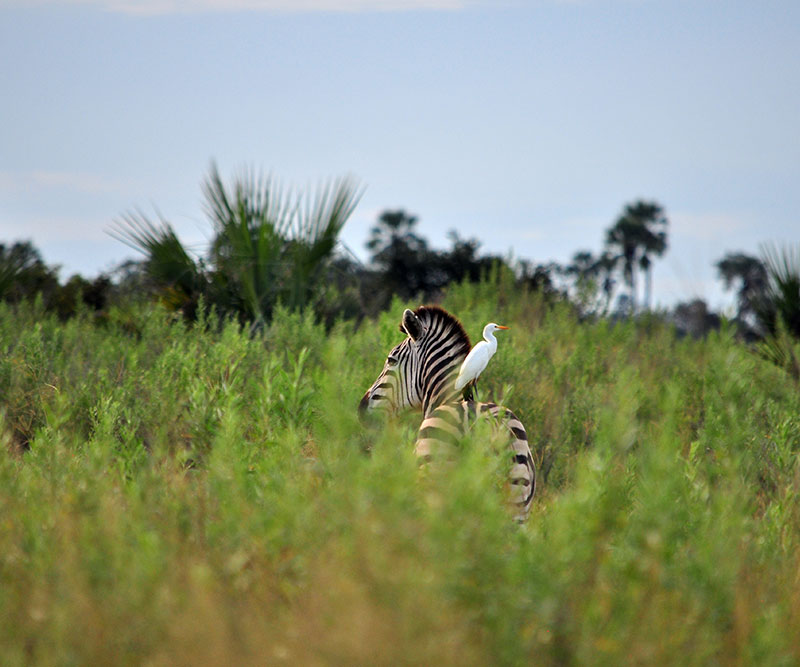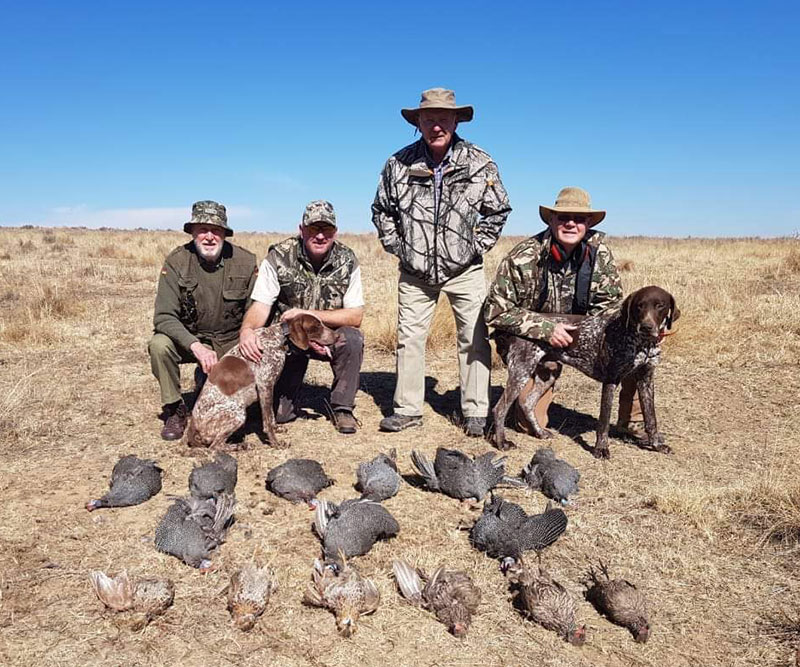 6. Wet Wipes or tissues
Take plenty. You can find them in the SA stores as well.
You will use them often for a quick clean up or for dirty hands. You'll love them when nature calls and you are in the sticks. The same goes for tissues and in case you get the sniffles or sneezes, the travel size packs are perfect.
7. Your mobile phone and camera, and plastic Zip-Lock bags to put them in.
You can buy the deluxe cases for your phone and camera- and they are terrific, but if you don't have time or the inclination, a zip-lock bag works well. Make sure you get the heavy-duty zip-lock to keep out moisture and dust.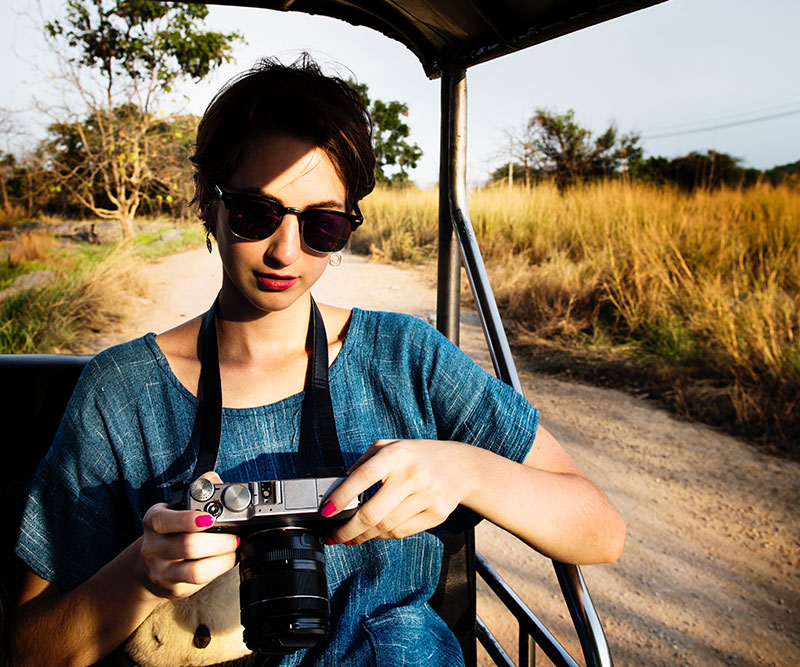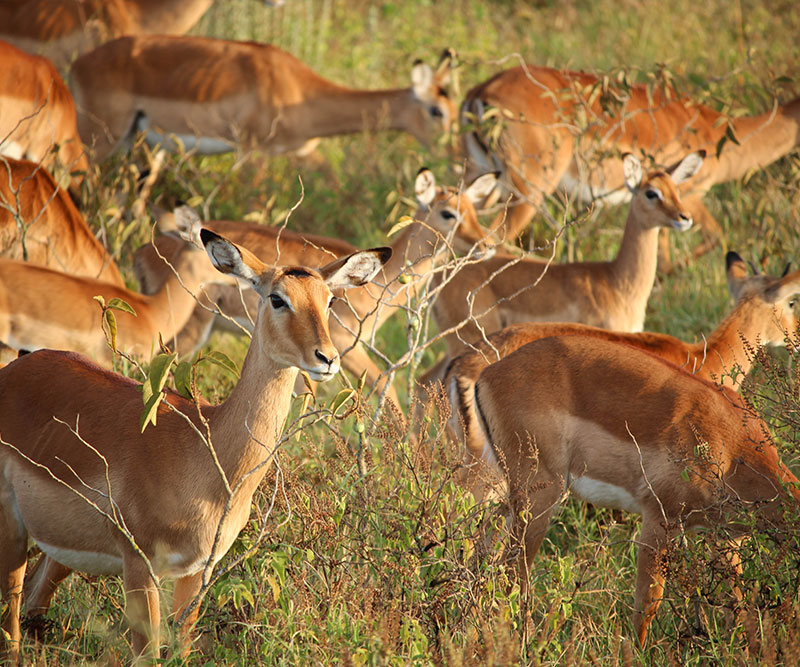 8. Extra batteries and memory cards.
Take spare batteries for your camera or flashlight and more memory capacity than you think you will possibly need. Maybe your camera has rechargeable batteries. If that is the case you will need a transformer/adaptor. South Africa uses 220 Volt. You will need your own adaptor and a multi-plug to go in that, so that you can charge several things at one time if you wish. Put it all in one place in a small zip-lock and keep it handy.
9. Warm clothes to sleep in.
It might sound silly but the nights during the Africa winters can be cold enough to make it uncomfortable at night. Most places have electric blankets, but just in case, bring a warm pull over shirt—long sleeved and either sweat pants or something warm for the bottoms. Sweat pants are great to lounge in.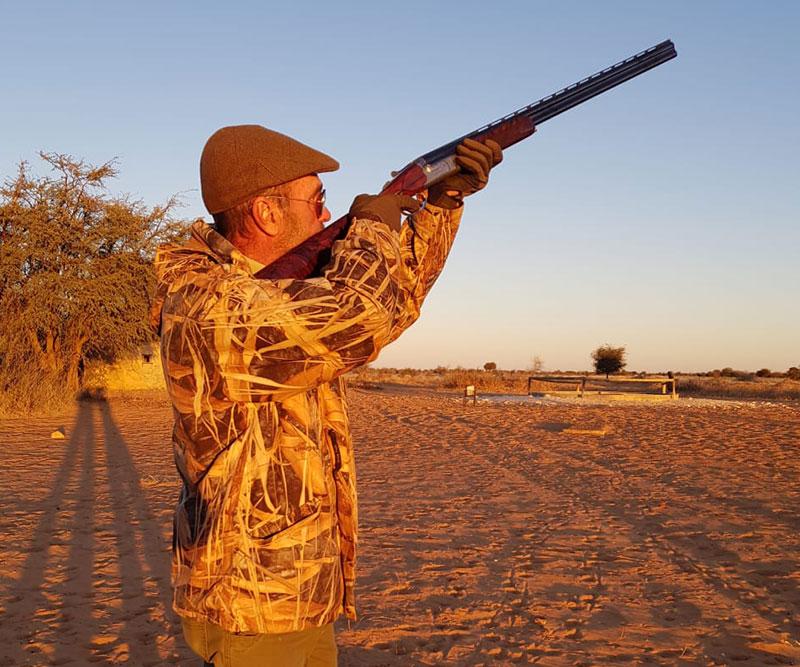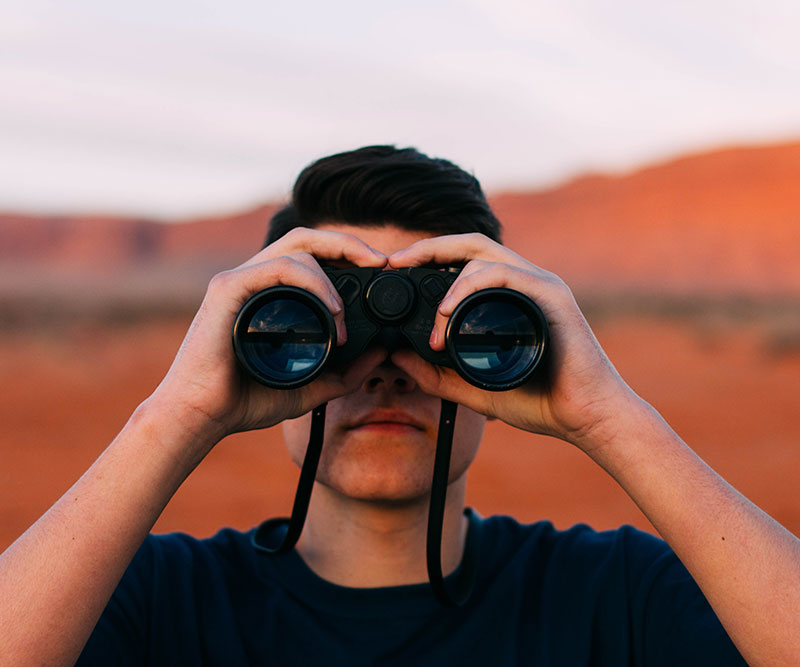 10. Good binoculars
Can't say enough about this! Buy, borrow or whatever you need to do, but come with a good pair of binos. You'll use them all day every day, whether it's looking at animals, birds or the many other interesting things to see.
11. Copies of your passport and credit cards.
Hopefully it will never be an issue—but just in case. Take photo copies and scan them so that you have electronic copies.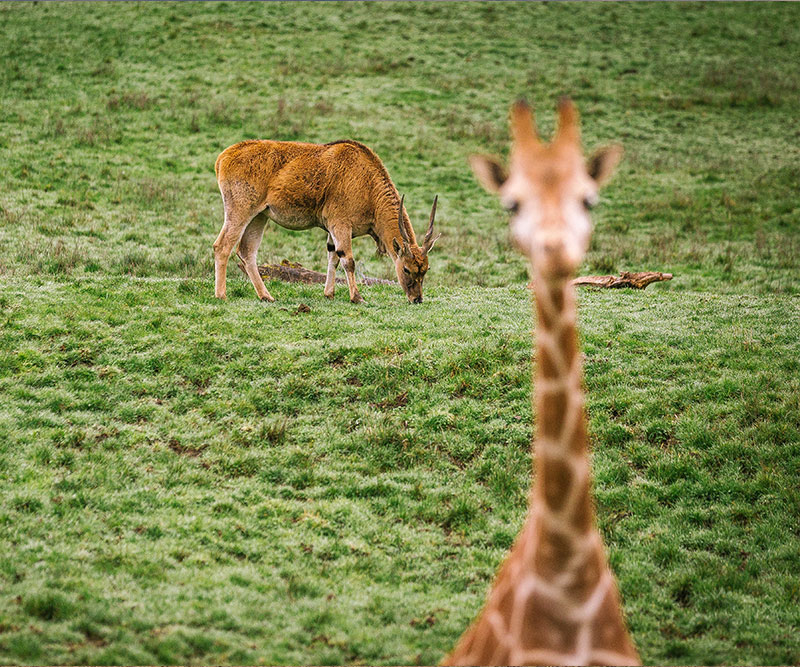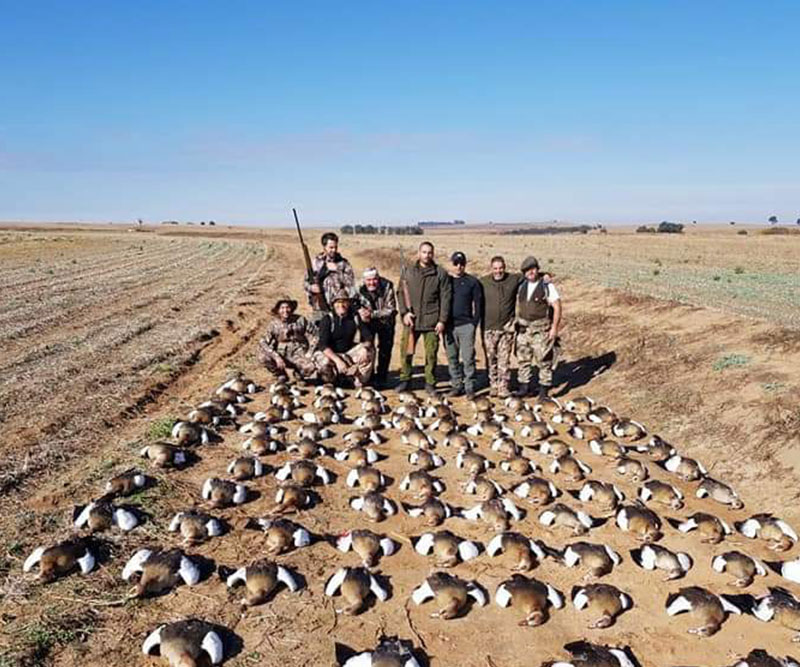 12. Good broken in comfy boots.
The ankle height is fine though I prefer a taller boot. Get the ones you like but go with comfort. Don't even think about bringing a brand spanking new pair of boots that are not broken in and end up with blisters. It's fun to walk around in Africa and you'll be happy you picked some proper boots. A pair of sneakers or shoes works well when you aren't out and about in the field, and they should be comfortable as well.
Having the right gear makes a huge difference in your trip. Being prepared means the difference between a miserable experience and a fantastic one. Get things together early so that you are not rushed the night before you leave. It does you no good if you have plenty of underwear, but you forgot your boots!